PLAYERS
European Championships (Round 11). 9 rounds left
Time limit: THIS Tuesday 14/04/2015, 19:00 (UK)
European Cups Select 8 from 8
League Division Competition (Round 15). 5 rounds left
Time limit: Saturday 18/04/2015, 13:00 (UK)
League (high) Select 15 from 17
League (low) Select 15 from 23
National Conference Select 15 from 32
Scottish, Welsh, and Irish Leagues Select 15 from 24
European Mediterranean East Select 15 from 39
European Central Select 15 from 43
European North West Select 15 from 19
Iberian Peninsula Select 15 from 28
Scandinavian Select 15 from 21
Combined Counties League Select 15 from 44
Isthmian League Select 15 from 36
Kent Leagues Select 15 from 24
Midlands East - South - Central Select 15 from 67
Midlands Leagues Select 15 from 88
Northern County Leagues Select 15 from 91
Northern Premier League Select 15 from 33
South Coast Leagues Select 15 from 70
South West County Leagues Select 15 from 29
Southern League Select 15 from 45
Western Counties Leagues Select 15 from 16
TOP 20 SCORERS - LEAGUE DIV COMPETITION (Round 13) - WK 32
1 * Maxima Minima (L1 - Super League) * 87
2 * Wulstan Hinterhaus (L3 - Albions League) * 79
3 * Didius Kickers (L2 - Slobidon Conference) * 76
4 * Hedda Hinterhaus (NON LEAGUE DIVISION) * 76
5 * Ebba Toon Jesters (L3 - Oslac League) * 75
6 * Lindisfarne United (L2 - Fantasia Conference) * 75
7 * Suetonius Slicks (L3 - Oswulf League) * 75
8 * Didius Floggers (L3 - Albions League) * 73
9 * Cadiz Magic (L1 - Super League) * 71
10 * Magnentius Brook (L3 - Cunibert League) * 71
11 * Bonosus Brady Bulldogs (L3 - Cunibert League) * 70
12 * Dervan Donkeys (NON LEAGUE DIVISION) * 70
13 * Invincible North End (L3 - Cunibert League) * 70
14 * Albions Miltons (NON LEAGUE DIVISION) * 67
15 * Aidan Centurions (L1 - Super League) * 66
16 * Osbert Albion (L3 - Leighton League) * 66
17 * Porta Kabin (L2 - Slobidon Conference) * 66
18 * Withering Walnuts (L2 - Fantasia Conference) * 66
19 * Augustus United (L3 - Claudia League) * 65
20 * Bensington Palace (L1 - Super League) * 65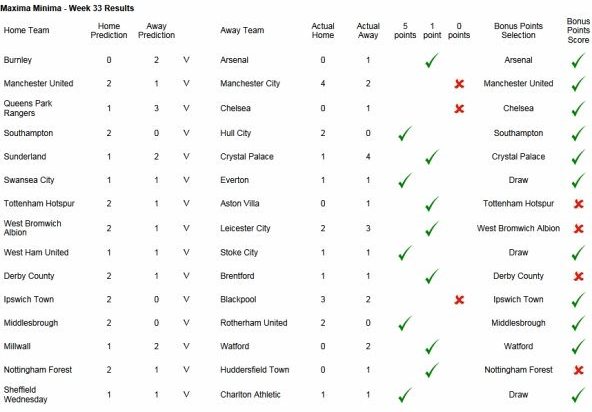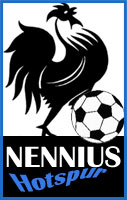 OVERALL TOP 20 SCORERS - LEAGUE DIVISION COMPETITION @ (Round 14) - WEEK 33
FROM * 1 * TO * 1 * Nennius Hotspur (L2 - Wanu Wanu Conference) * 56.57% * 883
FROM * 2 * TO * 2 * Jutland EFC (L2 - Wanu Wanu Conference) * 56.51% * 882
FROM * 3 * TO * 3 * Magnentius Spurs (L2 - Fantasia Conference) * 56.44% * 881
FROM * 4 * TO * 4 * Tay County (L1 - Super League) * 53.22% * 830
FROM * 5 * TO * 5 * Caer Urfa F.C. (L2 - Fantasia Conference) * 49.08% * 825
FROM * 6 * TO * 6 * Eadburga Rovers (L1 - Super League) * 49.08% * 825
FROM * 7 * TO * 7 * Fantastico Centurians (L3 - Oswulf League) * 48.28% * 811
FROM * 8 * TO * 8 * Meanwaras Rovers (L1 - Super League) * 46.63% * 783
FROM * 9 * TO * 9 * St. Columba Fenians (L2 - Slobidon Conference) * 47.18% * 774
FROM * 10 * TO * 10 * Ex Rhodesians (L3 - Albions League) * 46.02% * 773
FROM * 11 * TO * 11 * Bretagne Forward Pass (L3 - Beornred League) * 46.02% * 773
FROM * 12 * TO * 12 * Canute Wanderers (L3 - Albions League) * 46.02% * 773
FROM * 14 * TO * 13 * Ida Go Nowhere (L3 - Oslac League) * 46.02% * 773
FROM * 13 * TO * 14 * Immanuentius F.C. (L3 - Albions League) * 45.89% * 771
FROM * 20 * TO * 15 * Ella Belle (L3 - Malcolm League) * 45.65% * 767
FROM * 21 * TO * 16 * Wye City (L3 - Leighton League) * 45.65% * 767
FROM * 22 * TO * 17 * Tin-islands Are Canny (L3 - Oswulf League) * 45.65% * 767
FROM * 23 * TO * 18 * Invincible Raiders (L2 - Slobidon Conference) * 45.65% * 767
FROM * 15 * TO * 19 * Angels of Sutton (L3 - Leighton League) * 45.53% * 765
FROM * 16 * TO * 20 * Rainer Lane3 (L3 - Oswulf League) * 45.53% * 765
FROM * 17 * TO * 21 * Lodbrog One (L2 - Fantasia Conference) * 45.53% * 765
CUPS -: Win your cup game and you go through. Lose & you are out. In the case of a drawn game, the highest placed Team in the Lg goes through.
Jutland EFC (Wanu Wanu Conference) v Kennet Town (Malcolm League)
St. Columba Celtic (Oswulf League) v Axminster United (Beornred League)
LEAGUE CUP - Semi Finals - LEG 1 (THIS WEEK - 34), LEG 2 (WEEK - 35)
Immanuentius F.C. (Albions League) v Albions Greenwood (Leighton League)
Nennius Hotspur (Wanu Wanu Conference) v Canute Wanderers (Albions League)
DOMINION SERIES - FINAL -: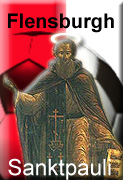 Flensburgh Sanktpauli FC (Malcolm League) 71 v 52 Usk Rio de las Minas FC (Oslac)
NATIONS CUP - every week!
PRETEND BET now running with [9] Players taking part - each with up to [4] Teams. See Outcomes at bottom of GAME Page under WAGER LADDER by TOTAL BALANCE
Marketing of the website will start from end of season now that CONTENT is as good as it gets. This doesn't mean CONTENT is complete but from this point we will be chasing new members with vigour. Success in numbers ought follow with the Marketing we have in mind - in the very noisy place that the Internet is.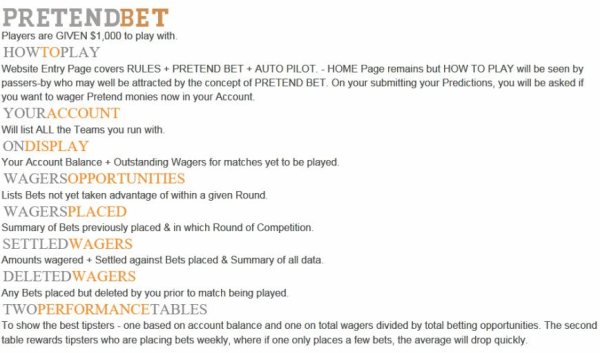 Link to website